Cameron The Caterpillar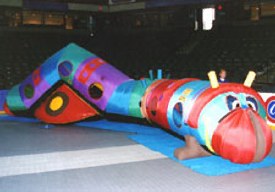 A really Cool, really colorful caterpillar.
Over 40 feet of inflatable fun and entertainment that's a huge hit with the kids.
There's lots of travel through adventure including a large slide at the very end.
See-through port holes let's the kids see you as you keep an eye on them.
Space required: 40' x 12' x 10'
Power: Two (2) 110v outlets

Call Us at 810-984-4471