St. Clair County Entertainment Center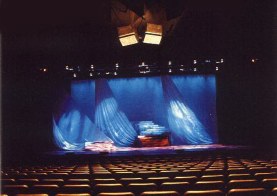 Glo Gem Productions
was asked to give suggestions to the St. Clair County Parks and Recreation Commission
(P.A.R.C.)
for
revenue generating opportunities
as outlined in the 1997-2001 St. Clair County Parks and Recreation Master Plan. A proposal was submitted to the St. Clair County Parks and Recreation Commission at their January , 2001 meeting.
On page 21, under the heading ST. CLAIR COUNTY, it states " During the next decade, PARC will identify and acquire land and develop facilities of both a resource oriented and special attraction nature."
On page 22, under SPECIAL EVENT FACILITIES , the document expresses

"the need for an area to accommodate major special events"
. It concludes in the same paragraph that
"This space could include an outdoor performing arts theater"
On page 23, under RECREATIONAL FACILITIES, the survey asked respondents to identify activities which members of their houshold participated in during the last year. In the Urban region of the county, 55% attended outdoor concerts. 43% in the North Region and 51% in the South Region. The SUMMARY section states that "outdoor concerts rank high everywhere".
On page 24, under FEES AND CHARGES, households were asked if they were in favor of, or opposed to, nominal entrance fees to use park facilities as a means to offset maintenance costs.
80 % were in favor of the fees.
On page 30, under DEVELOP THE COUNTY OWNED PROPERTY IN GOODELLS TO SERVE THE ACTIVE AND PASSIVE RECREATIONAL NEEDS OF COUNTY RESIDENTS, c. Develop the site with attention to the long term operation and maintenance implications as well as creating revenue generating opportunities when not inconsistent with service objectives.
On page 37, under THE NEED FOR A REVENUE STRATEGY, the document says, "PARC currently enjoys the benefits of having a voter approved parks and recreation millage. The agency's financial strength in the future will however depend on having a more diverse funding base with less dependence on a single source of income". " Strategies must then be developed and resource committed in order to generate the targeted revenue".
To that end, and according to the request made to
Jim Cox
by Steve Cooper, Chair, St. Clair County Planning Commission and P.A.R.C. member, to
"suggest ways to utilize the facilities at Goodells Park in consistence with a Pine Knob type of atmosphere"
,
Or call us at 810-984-4471