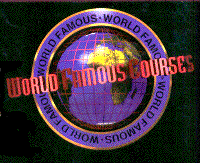 No matter what the weather or where you are, you can always play a round at Pebble Beach, Augusta or even on the moon !
No, playing golf on a simulator is not quite the same as the real thing, but to tell you the truth, you'll have ten times more fun with less frustration and a lot more entertainment on this high-tech system.

Great for contests, trade shows

Courses from around the world.

Computer swing analysis options.</UL?
It's the most photo-realistic computer images you'll ever see !